Top 5 Reasons To Attend OPA InterACTION 2019
Technology has changed the way we interact with each other.
We are connected 24/7 and you can easily find the latest research, evidence, and courses online.
While attending a conference is a learning experience – academic and clinical – showing up to learn is not in the top 5 reasons.
It is all about human connection.
Today, we're going to explore the top 5 reasons you, a physiotherapy student, new grad, clinician or academic, should attend OPA InterACTION this year.

1. The Network Always Wins
Your network is your net worth.
Your social capital, your ability to build a network of authentic personal and professional relationships, is the most important asset in your portfolio.
Connecting with colleagues online is important and there is no doubt that technology has accelerated our ability to build relationships with others; however, there is no substitute for connecting with someone face to face.
One of the most effective ways to meet face-to-face with your physiotherapy colleagues, is at conferences. The OPA InterACTION is the only provincial physiotherapy conference and gives you the opportunity to meet with a wide range of physiotherapists across Ontario. You will be able to start building a foundation for long-term, mutually beneficial relationships with researchers, academics, clinicians in both private and public sectors, and even business owners.
You might be saying, "I'm a brand new physiotherapist. How am I supposed to show up and connect with the VIP's? Is it even possible?"
I won't just tell you it's possible – I will show you.
I stepped into the conference hall at the OPA InterACTION conference in Ottawa in 2015 knowing no one. I hadn't attended this conference since 2010 and at first glance I couldn't see a single one of my colleagues or classmates.
Everyone was broken off into small groups chatting over a glass of wine. I took a deep breath and joined one of the circles where they were talking about the profession and the presentations they would be giving tomorrow.
A man in the circle (you probably know him well – Darryl Yardley) smiled at me and introduced himself. He asked where I worked and why I was attending the conference. I told him briefly about Embodia and he seemed immediately interested. He asked a bunch of questions and then invited me to join an evening event after the conference ended where I met many more influential professionals in our industry.
2. Contribute to the Conversation
Hearing about the latest research and learning from others is important, but you could do that in your pyjamas from the comfort of your home.
Showing up and being a part of the conversation, asking questions and interacting with those who are presenting, is the most powerful tool available for increasing your exposure.
3. Move Outside Your Comfort Zone
All progress takes place outside of your comfort zone and the good news is the more you challenge yourself, the more natural it becomes to feel comfortable with the uncomfortable.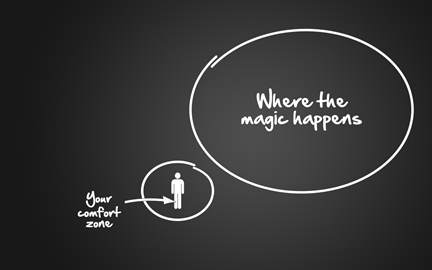 If you want something you've never had, you need to do something you've never done.
Very few people actually like walking up to strangers and striking up a conversation, but remember most people in the same room feel the same way and will most likely be relieved when you start the conversation.
Have a list of a couple of questions that you can ask to someone you've never met so you don't default to the standard, boring questions about the weather or the food at the conference.
This year at the CPA Congress I had the pleasure of sitting down for a drink with Kim Hall, the founder of Physio2U – a wildly successful home care business in BC.
We had chatted on the phone a couple of times and gone back and forth over email, but sharing a drink and a personal conversation about the challenges of being a female entrepreneur has built a foundation for a long term relationship.
4. Meet Someone New, Learn Something New
You are the average of the 5 people you spend the most time with.
We all tend to spend time with the same people on a regular basis – we work with the same people, live with the same people and chances are we hang out with the same people in our social circles.
Getting out there and meeting someone new gives us the opportunity to also learn something new (not necessarily academic or research based).
5. Keep the Connection Going
Meeting someone new and making that initial connection is the first step. Following up and staying in touch is key if you want it to grow into a long term relationship.
Warning – Building a powerful network is not easy. If you want something easy, go find some blog that posts Top 10 Career Tips for Success.
Building a network is not about sending a fake email to someone, pretending to be interested in them, then asking for a job. If that is your goal, leave.
Building real relationships is about investing in them first, figuring out what they want and love, and then helping them get it — NOT instantly expecting a magical job offer. In fact, most of the "networking" you do will simply be helping people and getting nothing back in return.
When you change your mentality about attending conferences and events, understanding that it's about adding value instead of extracting it, you will see massive long-term results.

See you there!
Maggie Bergeron
PT, Co-Founder